PASTA SALAD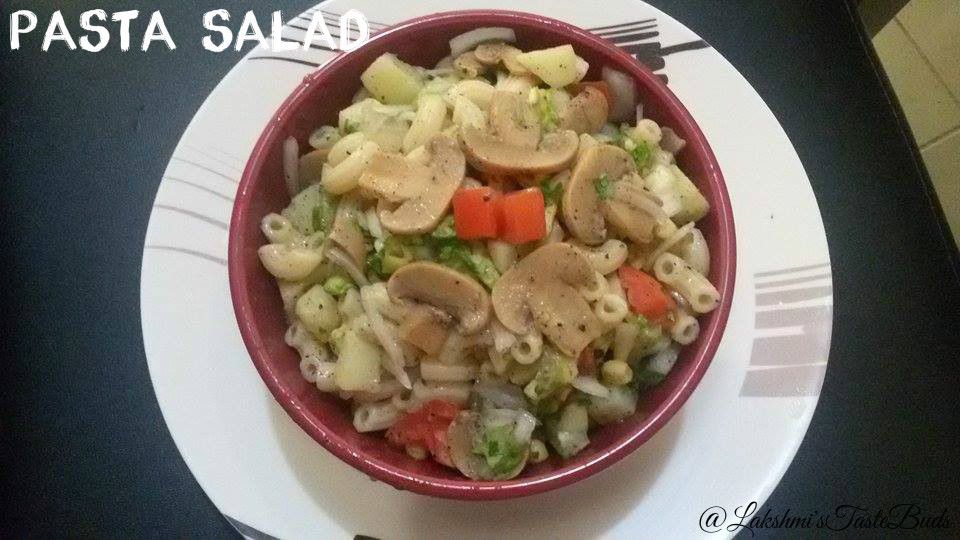 Ingredients : Elbow Pasta – 2 cups
Potato – 1 cup
Corn – 1 cup
Tomato – 1 no
Cucumber – 1 no
Onion – 1 no
Mushroom – 1 cup
Capsicum – ½ cup
Olives – ½ cup
Jaleapenos - 1 tblsp
Salt -½ tsp
Crushed Pepper -2 tsp
Olive oil – 3/4 tblsp
Lime juice – ½ cup
Coriander Leaves – 1 cup
Method : Cut the Potato to 1cm square cubes and boil them.
Cook the pasta well in salted water .
Steam the Corn and keep aside. Drain all the veggies / Pasta .
Slice the Mushrooms, Capsicum, Onion into thin slices with length of ½ inch.
Cut the Cucumber and Tomato into 1 cm cubes
Take a large bowl add all the veggies/pasta. To this add the crushed pepper. Mix well
Now take the Lime Juice in a small bowl add 1 tsp salt to it and mix well . Now slowly add the Olive oil to this mixture and keep beating / mixing the oil and Lime juice well with a fork till you get a milky thick mixture.
Add this lime juice mixture to the the Veggies/ Pasta . And mix well till all the pasta and veggies are coated with this mixture and you get a shine over them. Lastly add the finely chopped Coriander leaves and mix well.
Refrigerate this Pasta salad after mixing for atleast 1hour minimum for the veggies to soak the Lime juice.
Cool , tangy PASTA SALAD is ready. It's a One pot meal – very filling. Can be eaten at night.
Note : Quantity and Veggies and be altered as per your choice.